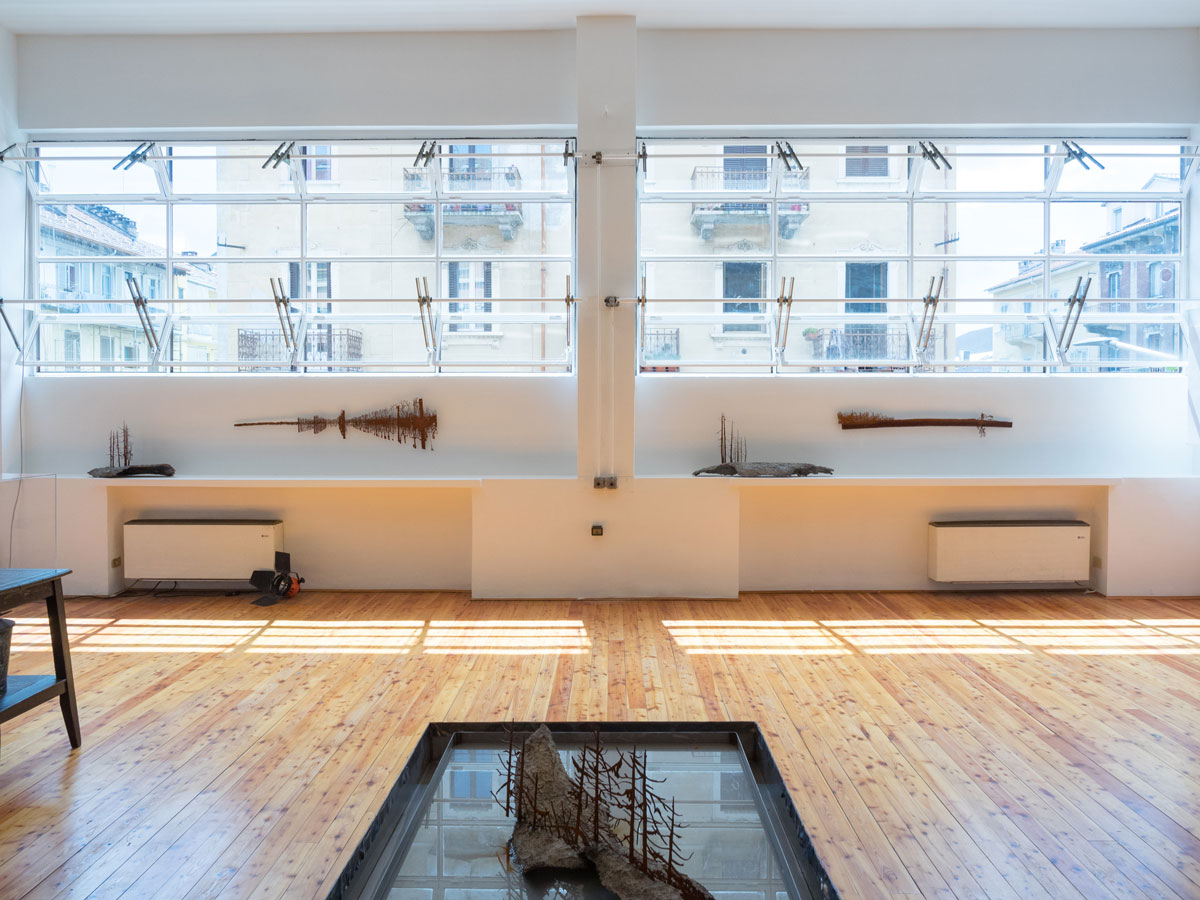 CAMERA CHIARA
Camera Chiara nasce nel 2017 da un'idea di C&C Studio. Al contempo spazio espositivo, laboratorio, luogo fisico e ideale per la sperimentazione e la ricerca. Oltre ai lavori di Paolo Albertelli e Mariagrazia Abbaldo, Camera Chiara espone anche opere e progetti di artisti con i quali, nel tempo, sono nate collaborazioni e scambi di competenze.
Camera Chiara è soprattutto un inedito strumento di lavoro grazie al quale ogni volta prendono vita nuovi dialoghi.


Camera Chiara was born in 2017 from an idea of Studio C&C. It is, simultaneously, an exhibition space, a laboratory and a physical and ideal place for experimentation and research. In addition to Paolo Albertelli and Mariagrazia Abbaldo's works, Camera Chiara also exhibits pieces and projects by other artists and collaborators.
Camera Chiara is, above all else, an unprecedented work tool that allows the birth of new dialogues each and every time.

Gli spazi sono visitabili su appuntamento. Si prega di scrivere a info[at]fontanedoc.it o chiamare +39 011.19900130
Lo Studio C&C è attivo dal 1997 nell'ambito dell'arte ambientale ai confini con l'architettura. Tra i numerosi riconoscimenti nel 2004 vince il Premio OAT Architetture Rivelate, architecture project for private house. Nel 2012 inizia una collaborazione con il museo MMM-Messner Mountain Museum ideato da Reinhold Messner. Nel 2013 il Museo Nazionale della Montagna di Torino acquisisce alcune opere che entrano a far parte della collezione permanente. 
Nel 2014, in occasione della XIII Conferenza delle Alpi allo Studio C&C viene commissionato  da Paolo Angelini allora Capo Delegazione Europea, l'opera-staffetta che testimonia l'alternanza, da un paese a un altro, alla Presidenza della Convenzione delle Alpi . Nel 2017 con una mostra personale, lo studio torinese è invitato a Bruxelles presso il Parlamento Europeo nell'ambito delle politiche di sensibilizzazione e del programma sui Paesaggi vitivinicoli delle Langhe-Roero e del Monferrato Patrimonio UNESCO. Numerose sculture e progetti ambientali sono stati commissionati per collezioni private in Italia, Svizzera e Francia.
Studio C&C has been active since 1997 focusing on environmental art and architecture. Among the many awards in 2004 the Studio won the OAT Prize Architetture Rivelate, architecture project for private house. In 2012 it began a collaboration with the MMM-Messner Mountain Museum by Reinhold Messner. In 2013 the Museo Nazionale della Montagna of Turin acquires some pieces that become part of the permanent collection.
In 2014, during the XIII Conferenza delle Alpi, Studio C&C was commissioned by Paolo Angelini, the Head of European Delegation, the relay work that testifies the passing, from one country to another, of the Presidency of the Alpine Convention. In 2017 with a personal exhibit, the Turin-based studio is invited to Brussels at the European Parliament as part of the awareness-raising policies and the program on the Paesaggi vitivinicoli delle Langhe-Roero e del Monferrato Patrimonio UNESCO. Numerous sculptures and environmental projects have been commissioned for private collections in Italy, Switzerland and France.